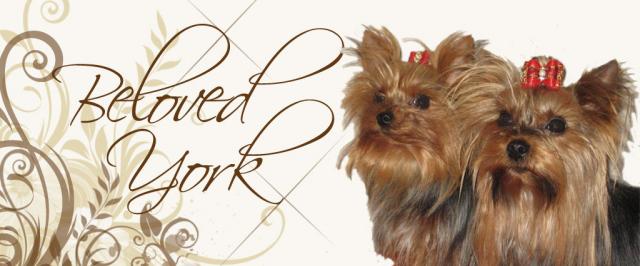 FCI Yorkshire Terrier Rasestandard





Helhetsinntrykk: Langhåret med pels som henger helt rett og jevnt på begge sider, med skill fra nesen til halespiss. Meget kompakt og lettstelt med kompakt holdning som får den til å virke selvbevisst. Kraftfull og velproporsjonert.

Adferd/ temperament: Våken og intelligent liten terrier. Livlig og avbalansert.

Hode:
Skalle: Ganske liten og flat, ikke for fremtredende eller rund.
Nesebrusk: Sort
Snuteparti: Ikke for langt.
Kjever/tenner: Perfekt, jevnt saksebitt. Komplett tannsett. Velplasserte tenner. Jevne kjever.
Øyne: Middels store, mørjke funklende med et skarpt intelligent uttrykk. Plassert fremoverrettet. Ikke utstående. Mørk øyelokksrand.
Ører: Små, V-formet, båret opprettstående, ikke for bredt plassert. Dekket med kort pels med meget dyp, varm tanfarge.
Hals: God lengde.

Forlemmer:
Helhetsinntrykk: Rette godt dekket med pels i en varm, gylden tan farge. Hårene litt lysere i tuppene enn ved roten. Tanfargen må ikke rekke høyere enn til albuene.
Skulder: Godt tilbakelagt
Poter: Runde, sorte klør.

Kropp: Kompakt


Rygg: Rett.
Lend: Stram
Bryst: Moderat hvelvede ribben.
Hale: Tradisjonelt kupert*
Kupert: Middels lang, dekket med mye pels, mørkere blå enn resten av kroppen, spesielt på spissen. Bæres noe høyere enn rygglinjens forlengelse.
Ukupert: Dekket med mye pels, mørkere blå enn resten av kroppen. Så rett som mulig og av lengde som virker harmonisk.

Baklemmer:
Helhetsinntrykk: Ganske rette sett bakfra. Godt dekket med pels i en varm gylden tanfarge, noe lysere i tuppene enn ved roten. Denen fargen skal ikke gå høyere enn til knærne.
Knær: Moderat vinklet
Poter: Runde, mørke klør.
Bevegelser: Frie med godt fraspark. For og bakben føres rett frem og tilbake, vannrett overlinje.

Pels:
Hårlag: Moderat lang på kroppen, helt rett ( ikke bølget), glansfullav fin silkeaktig struktur, ikke ullen. Lang pels på hodet, varm gylden tan, dypere farge på siden av hodet, på ørenes base og på snutepartiet, som har meget lang pels. Tanfargen på hodet må ikke gå ned på nakken. Sotede eller mørkere pelshår må ikke forekomme på tanfargede partier.
Farge: Mørk stålblå (ikke sølvblå) fra nakkeknølen til haleroten, aldri blandet med hår i fargene fawn, bronse eller mørk tan. Varm, lys tanfarge på brystet. Alle tanfargede pelshår er mørkere ved roten enn på midten, lysner gradvis mot tuppene.

Størrelse og vekt: inntil 3,1 kg.
Feil: Ethvert avvik fra foregående punkter skal betraktes som feil. Hvor alvorlig feilen er, skal graderes etter hvor stort avviket er i relasjon til rasebeskrivelsen.

Diskvalifiserende feil: Hunder som viser tegn på aggressivitet og/ eller har fysiske defekter som påvirker hundens sunnhet skal diskvalifiseres.

OBS: Hannhunder skal ha to normalt utviklede testikler på normal plass.
*) I henhold til norsk lov er halekupering forbudt.
Rasebeskrivelsen er oversatt fra gjeldene FCI- standard

NKK 4 mai 2004


FCI Yorkshire Terrier breedstandard

Origin : Great Britain.

Classification F.C.I: Group 3 Terriers.

General appearance : Long-coated, coat hanging quite straight and evenly down each side, a parting extending from nose to end of tail. Very compact and neat, carriage very upright conveying an important air. General outline conveying impression of vigorous and well proportioned body.

Behaviour anf temperament : Alert, intelligent toy terrier. Spirited with even disposition.

Head cranial region:

Skull : Rather small and flat, not too prominent or round.

Facial region:

Nose : Black.

Muzzle : Not too long.

Jaw/Teeth : Perfect, regular and complete scissor bite, i. e. upper teeth closely overlapping the lower teeth and set square to the jaws. Teeth well placed with even jaws.

Eyes : Medium, dark, sparkling, with sharp intelligent expression and placed to look directly forward. Not prominent. Edge of eyelids dark.

Ears : Small, V-shaped, carried erect, not too far apart, covered with short hair, colour very deep, rich tan.

Neck : Good reach.

Body : Compact.

Back : Level.

Loins : Well sustained.

Ribs : Moderate spring o ribs.

Tail : Customarily docked.

Docked : Medium length with plenty of hair, darker blue in colour than rest of body, especially at end of tail. Carried a little higher than level of back. Undocked : Plenty of hair, darker blue in colour than rest of body, especially at end of tail. Carried a little higher than level of back. As straight as possible. Length to give a well balanced appearance.

Limbs Forequarters

: Legs straight, well covered with hair of rich golden tan a few shades lighter at end than at roots, not extending higher on forelegs than elbows.

Shoulders : Well laid.

Hindquarters: Legs quite straight when viewed from behind, moderate turn of stifle. Well covered with hair of rich golden tan a few shades lighter at ends than at roots, not extending higher on hindlegs than stifle.

Feet : Round ; nails black.

Gait/movement: Free with drive ; straight action front and behind, retaining level topline.

Coat hair: On body moderately long, perfectly straight (not wavy), glossy ; fine silky texture, not woolly. Fall on head long, rich golden tan, deeper in colour at sides of head, about ear roots and on muzzle where it should be very long. Tan on head not to extend on to neck, nor must any sooty or dark hair intermingle with any of tan.

Color : Dark steel blue (not silver blue), extending from occiput to root of tail, never mingled with fawn, bronze or dark hairs. Hair on chest rich, bright tan. All tan hair darker at the roots than in middle, shading to still lighter at tips.

Weight : Weight up to 3,1 kg (7 lbs).

Faults : Any departure from the foregoing points should be considered a fault and the seriousness with which the fault should be regarded should be in exact proportion to its degree and its effect upon the health and welfare of the dog.

Any dog clearly showing physical or behavioural abnormalities shall be disqualified.

N.B. : Male animals should have two apparently normal testicles fully descended into the scrotum.